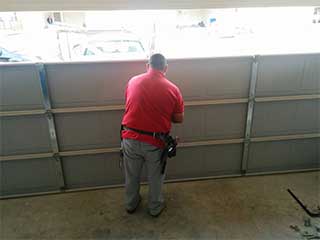 You are late for work, but your garage door won't open anymore. It always seems to happen at the most inconvenient of times for our customers. Luckily, we are here to put your trouble at ease and provide you with a quick and efficient solution. As one of the key players in the field, we are no strangers to servicing and repairing all makes and types of doors, from sectional to automatic models.
Putting our Customers First
Because we know what an important role your garage door plays in protecting your home and your vehicles we aim to resolve whatever issue you may have on our first visit. We always put our customers first and believe such an approach keeps us in business.
Capable of Resolving any Issue
If your door is off track, crooked, has a faulty cable, needs a new set of springs, or anything in between, we are here for you. We pride ourselves on exceptional service, every time we are out on a task.
Polite and Professional Team
Our technicians are fully trained and truly great at what they do. We constantly receive positive feedback on not only their performance but their attitude and approach to work they carry out. When analyzing the damage to your door, they will outline the nature of the problem and any possible costs associated with the repair. The issue might lie in the automation system, or the structure of the door itself. Regardless of your problem, we can help.
Affordable Rates for Top Quality
You can call us with confidence, knowing that we charge the most affordable rates without jeopardizing the quality of our service. As we said, our customers are our top priority. And it is this provision of competitive and economical rates that makes us your top local pick when it comes to garage door repairs of any sort. Reach out today and we will make sure your door is up and running in no time!
In addition, count on us for:
Garage Door Safety Inspections
Belt Drive Opener Installation
Extension Spring Adjustment
Track Replacement & Repair