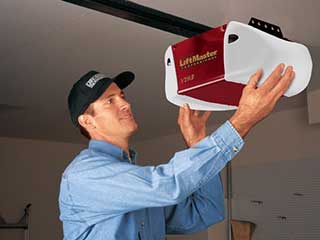 Trouble comes when we least expect it. Sometimes it's minor things, other times it's bigger problems that need urgent attention. Garage doors can develop a variety of issues as time goes by, some of which will become serious and stop you from using the system like you're used to. Broken springs, for example, make for one of the most popular service calls we get for emergency garage door repairs in Jonesboro. Without working springs, everything about the system can become unsafe. However, with the quick solutions provided by our local garage door repairmen, you can get back to using your door in no time.
Quick Opener Troubleshooting
When the main motor of your automatic garage door stops working like it normally does, you need the problem located and solved a.s.a.p. But different problems can have similar tell-tale signs. So how do we know what's causing the issue? With our emergency garage door opener troubleshooting services, we offer the Jonesboro area the quickest assistance when it comes to such malfunctions. Whether it's broken motor gears, something wrong with the logic board, or a part of the opener drive system not working, our technicians will find and fix the problem for you in no time at all.
Same Day Broken Spring Repairs
One of the most serious problems with garage doors is a broken spring. Can't safely use the system this way, and it can trap your car outside or inside the garage. You don't want to waste precious time out of your daily schedule just waiting around for help to arrive, right? Well, you won't have to! Our emergency broken garage door spring replacement services guarantee a quick response to all areas nearby Jonesboro. When a spring breaks unexpectedly, you can have a new one installed that same day! Save yourself the risks and let a professional garage door spring repairman carry out the job to your complete satisfaction.
Need Garage Door Repairs Near Jonesboro?
Our local technicians provide same-day solutions every weekend and weekday. Got a garage door that got off track or had a roller pop out? We come with replacement parts ready to install, in case that's needed, and repair tools to fix the problem without removing any part. So whenever you need the cheapest and quickest services, call Garage Door Repair Jonesboro for the best deal around!