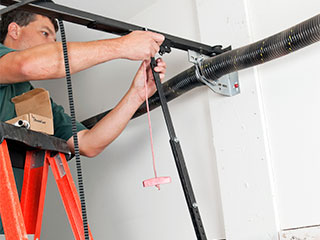 Knowledgeable Assistance
It's important to hire a professional to handle your maintenance needs and to spot problems before they arise. Our technicians can perform visual inspections that cover all the moving parts that your garage door needs to function, as well as safety tests that let us know if the parts we can't see from the outside are in need of attention. We'll assess your tracks and rollers to make sure everything is still properly aligned, and take a look at the springs and cables to see if anything is wearing out. We also check your moving parts for rust build-up, which can seriously affect the door over time. Maintenance checks can spot things like a motor that is starting to burn out or if your belt drive is becoming loose. Let us help you stay on track by providing quality care for your door before worn parts become a bigger problem.
Preventative Care
Routine inspections can uncover worn chains, belts, or pulleys, reveal what parts need lubrication or tune-ups, and show us what minor repairs you need before they become major damage. Making time for a maintenance call can save you loads of time and money down the road by keeping your garage door running smoothly and anticipating the problems before they become a big issue that can ruin your day. Preventative care is the right choice for your door if you want it to remain reliable.
Annual Check-up
Garage Door Repair Jonesboro recommends a yearly inspection for the best results. Even with daily use, the sturdy parts are unlikely to require service more often than that, but maintenance done less often could allow wear to build up to a break. Let our trained professionals inspect your door for safety, wear, and tear, and call today to schedule your annual visit.
Couldn't find what you're looking for? We also offer:
Garage Door Troubleshooting Services
New Opener Remotes & Clickers
Galvanized Torsion Spring Installation
Torsion Spring Adjustment