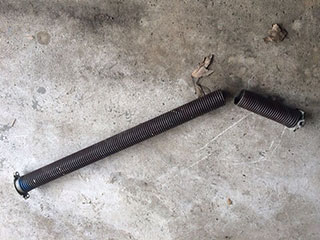 A problem that makes the springs on the garage door break often results from a long period of wear. You see, garage door springs work very hard day in and day out. Each time you use the door, the springs support its weight, counterbalance the panels, and ensure you don't have to exert yourself lifting a few hundred pounds of wood or steel. Replacing broken garage door springs can create some risks if you lack the knowledge and the experience on how to do this properly. For this, our local Jonesboro garage door spring repair services offer customers speedy answers to such issues. You can get help any day of the week.
What Is The Spring On Garage Doors
The main mechanism that allows your garage door to open without effort on your part takes on quite a bit of strength and tension. The spring loads up with tension and releases it each time you open and close the door. Some garage doors have two extension springs that connect on each side. Though, models that utilize this method have become quite older. The more modern variations use torsion garage door springs, which often consist of a single unit, set up across the door perpendicularly. With the use of lift cables, the garage door spring helps the panels rise and lower without sudden jerks or physical effort on your part. And naturally, all this effort on the spring's part results in wear that gradually weakens it.
What To Do When Garage Door Springs Break
First and foremost, you need to stay careful. You see, while the broken spring seems to have concluded the most risk, that's not the case. A garage door with a broken spring can still pose some dangers, especially if you don't know how to handle the situation. Lift cables can also break, and so can the opener mechanism if you try to open the garage door with the spring broken still. So to skip the potentially risky situation, get an expert to help with the repairs. Broken spring replacement for garage doors near Jonesboro can cost far less than you expect. With a quick phone call to our technicians, you can get a new spring installed on the same day.
Best Broken Garage Door Spring Repairs Near Jonesboro
With a service area that stretches very far and wide, you can always get quick assistance from our team. Garage door Repair Jonesboro offers same day spring replacement for all local regions. Need a new torsion spring installed and adjusted? We come with all the necessary parts ready to install! Broken springs are no laughing matter. So remember, whenever you need emergency repairs, go ahead and give us a call!